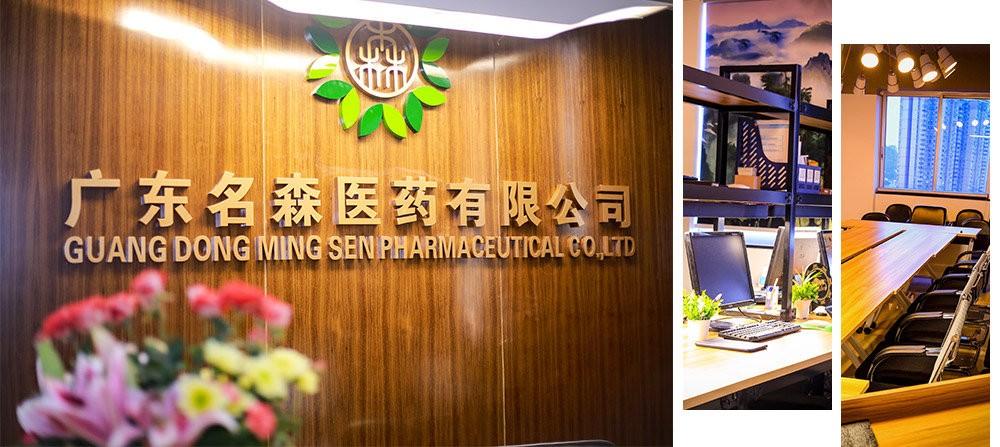 Guangdong Mingsen Pharmaceutical Co., Ltd. is located at 15 / F, Building A, Huajing Software Park, Tianhe District, Guangzhou City. It passed GSP certification of SFDA in 2003 with the registered capital of 10 million RMB. The company mainly deals in proprietary Chinese medicines, Chemical agents, antibiotics, APIs, antibiotic preparations of biochemical drugs; is a new type of business organizations and modern business management philosophy to establish the current management of new drugs, generic drugs hundreds of species, with excellent drug sales ability and good reputation , Established a strong drug sales network throughout Guangdong Province and has established stable cooperative relations with more than 600 pharmaceutical companies and has now expanded its business throughout the country.
Sen Mori Pharmaceutical Co., Ltd. combined with the corporate strategic goal of "brand concept, specialization and high efficiency", actively encouraged all employees to give full play to their talents by practicing a set of "people-oriented" management systems and methods, , To educate people with corporate culture, career and emotional talent to keep personnel mechanism. The company has now cultivated a young elite team that can stand on one's side and engage in the promotion of new drugs, open up new generic drugs, and strive for excellence and strive for excellence. According to the requirements of GSP, strict classification of drug storage. The warehouse area of ​​more than 1000 square meters is divided into storage work area, auxiliary work area and office area and maintenance room, and the quality of drug storage and maintenance work is guaranteed. Actively participate in the network of medical institutions in Guangdong Province, and get the trust and support of many drug manufacturers, operating more and more variety, business scope continues to expand.
Our staff will be broad-minded to withstand the tide of the pharmaceutical market economy tide of christening, sincere solidarity, riding on the momentum and continue to compose the glorious chapter of the development of Guangdong Ming Sen Pharmaceutical Co., Ltd .; hope that the majority of the pharmaceutical industry friends can continue to support Companies and companies also hope to have broader cooperation with friends in the pharmaceutical industry.